Interview with Herbert Kisza, 2008.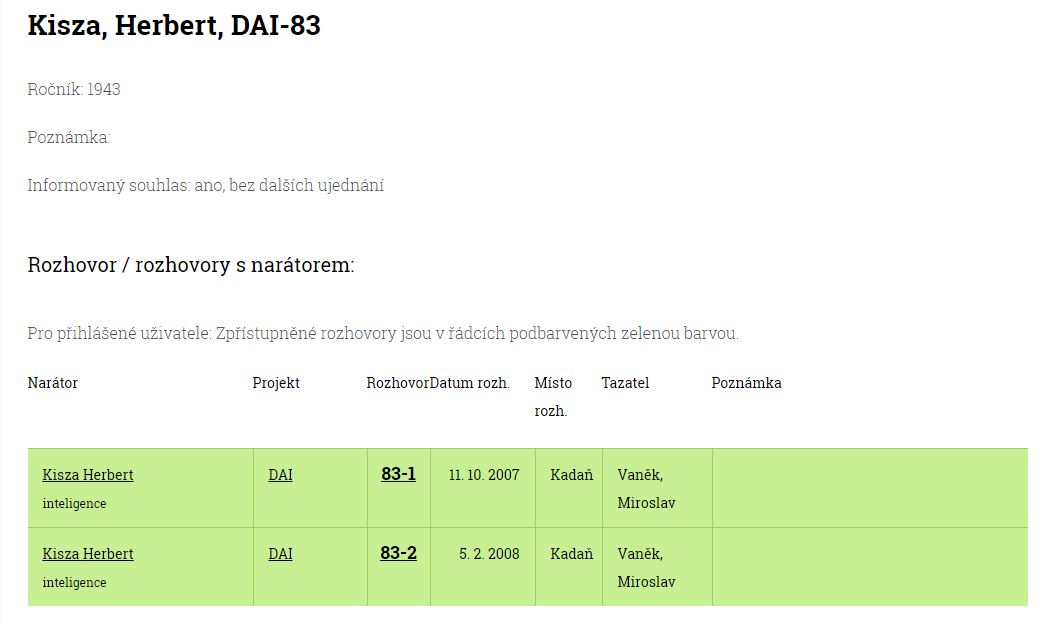 The interview with Herbert Kisza was conducted by Miroslav Vaněk during two sessions in Kadan, Czech Republic. The first interview took place on October 10, 2007 and the second on February 11, 2008. The interviews took nearly two hours together.
Herbert Kisza was chosen as a representative of intelligence as an artist. The interview was conducted as part of the project "Survey of Czech Society in the Period of Standardization, Biographical Narratives of Workers and Intelligence".
In the interview, Mr. Kisza mentions his childhood, studies at the School of Applied Arts, and how he managed to escape military service by having himself put in the psychiatric hospital. He tells of his attitude to Charter 77, which he did not sign in the end, though the secret service was watching him regardless since many of his friends and colleagues were signatories of Charter 77. Much of the conversation with Kirza is about traveling, even during socialism.
This interview is particularly interesting for the detailed information about life during socialism, the possibilities people had and the obstacles the regime placed them. Herbert Kisza was not a forbidden artist, but he was not supported, and in this interview he explains how he managed to continue with his work.
Създател
Сигнатура
Kisza, Herbert, DAI-83-1
Kisza, Herbert, DAI-83-2
Избрани пример от
MISSING:hasAuthorsOfEntry
Списък библиография
Interview with Herbert Kisza, 2007 and 2008. "Průzkum české Společnosti V Období Tzv. Normalizace. Biografická Vyprávění Příslušníků Dělnických Profesí a Inteligence « Centrum Orální Historie." Centrum Orální Historie. Accessed December 14, 2017. http://www.coh.usd.cas.cz/projekt/dai/.
Vaněk, Miroslav, Hlaváček, Jiří, interview by Vrtálková, Anna , October 27, 2017. COURAGE Registry Oral History Collection
2019-01-01 22:30:23