Kistamás, László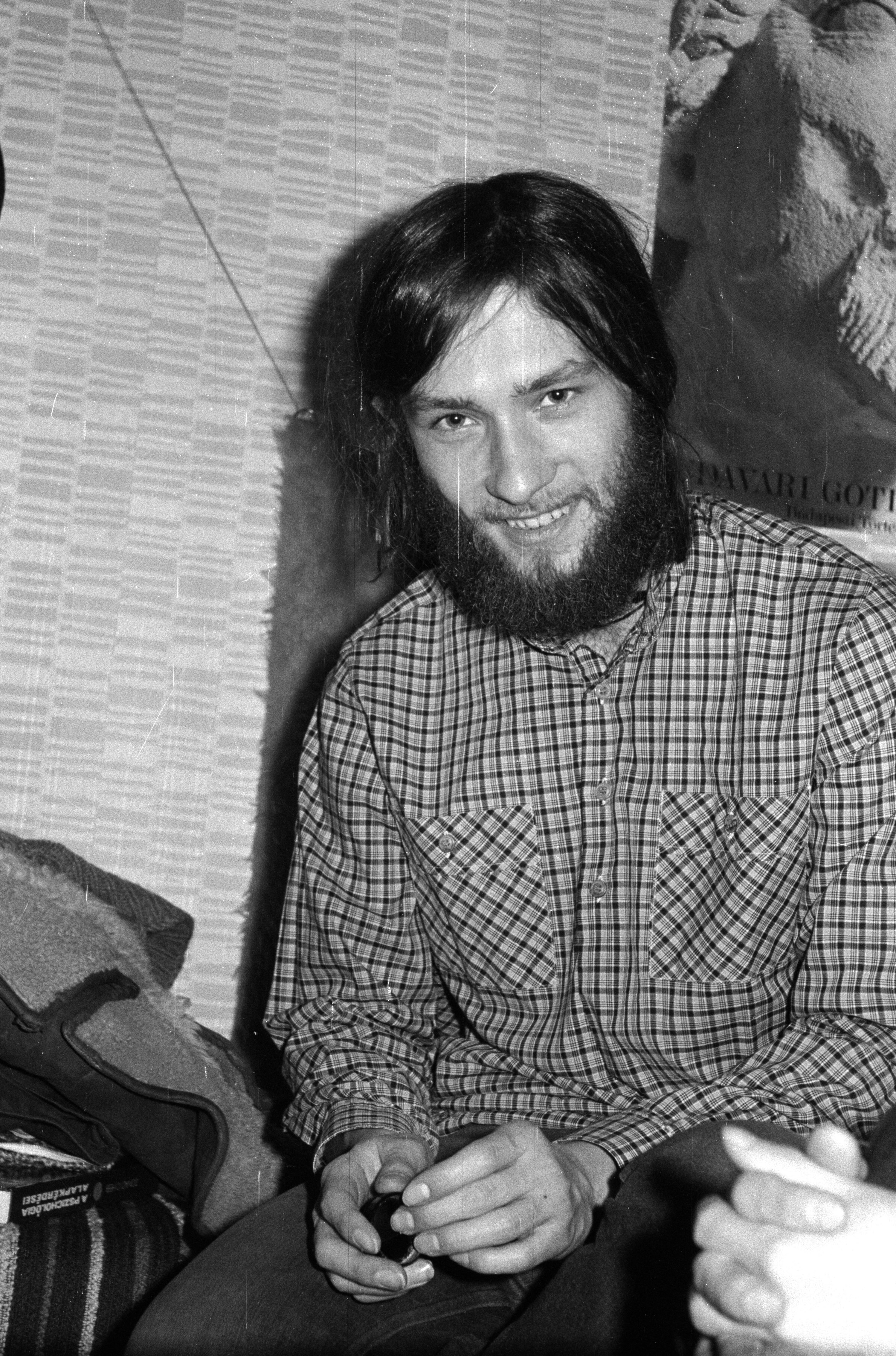 László Kistamás (1958–) was a musician, composer, performer, singer, and founding member of Kontroll Csoport (Control Group) and Balkan Futourist. At the age of ten, he moved to Paris for four years with his parents, and this experience had a strong influence on him. When he returned to Hungary with hair reaching to his waist, he was quite an outsider in the Hungarian school system, not just in appearance but in attitude as well.
Initially, Kistamás wanted to be a theater director, but first, he wanted to "try out everything from the other side." After high school, he joined Mosolygó, an amateur theater company in Óbuda, led by Péter Wéber, where he met Csaba Hajnóczy and Ágnes Bárdos Deák. Later, he took the lead of Mosolygó for a short time. He then started his own company, which mostly worked as an action group. However, at the end of the 1970s, it was almost impossible to get a permit for independent theatrical performances, especially without a past in the theater or connections. As Kistamás recalled, music was much harder to control than theater. There were so many bands, often lacking skill and popularity, so the authorities were also less interested in them. Therefore, Kistamás turned towards the world of music and concerts. Csaba Hajnóczy, who at the time studied at the Franz Liszt Academy of Music, taught him and Bárdos Deák to sing. Meanwhile, they were active members in the counterculture. They were watching and doing performances, and they participated in happenings. They also often went to the movies, which had a great impact on them.
Soon, the legendary underground band Kontroll Csoport was formed on the basis of this friendship while Kistamás was doing his two-year military service. Kontroll changed a lot during its three years of operation. It grew, members replaced one another, and as is usually the case with these kinds of bands, the development of personal relationships had a great impact on the history of the group.
Their first concert was actually a house party on New Year's Eve of 1980 in the home of András Wahorn. On January 25, 1981, their first official concert in front of the public was as the opening act for URH at Kassák Klub. After this, success came quickly, though not immediately. Kontroll Csoport did not compromise. They were amateurs, and they played music only for a very specific stratum of society. While on occasion they were not allowed to perform or only could perform using a pseudonym, such as Antibébi (Anti-baby) or Ági és a fiúk (Ági and the boys), overall, they were relatively fortunate: they had a regular place to rehearse and perform at the Ikarus House of Culture (which was like a community center), although with police and party presence. Accordingly, their cassettes only could be distributed underground, and they were always somewhere between tolerated and prohibited. While they could compose soundtracks for movies and even make movies, they were not allowed to play in front of a bigger audiences. The mass media simply ignored them. As Kistamás sees it, from a certain point of view this also meant greater freedom. They did not want to and did not have to comply to anyone's predilections. There were "no curators or critics behind them." Kistamás' biggest fear was that they might became like the accomplished rock musicians of the era. While putting out an album was a faint possibility for a while, as Kontroll Csoport did not want to leave out or alter certain lines, it remained impossible. Ironically, the line in question was not even one of theirs, but rather belonged to URH. Nevertheless, the band's insistence on not changing any lyrics was enough to cut short any plans of putting out an album. However, their concerts were extremely popular, and in 1983, Kontroll Csoport split up at the zenith of their career. While their farewell concert was not meant to be final, it turned out to be the end of Kontroll: everybody went their own way.
In 1985, László Kistamás started a new band, Balkan (Fu)Tourist, with his then-partner Kati Láng and Karcsi Lehoczki. The Déjà Vu program series was also connected to Kistamás and Lehoczki. It was organized once a month at the Ganz-MÁVAG Vasas Cultural House. These performances, which built on the unexpected, became quite popular among the audiences, but they could not continue. The director of the Cultural House, Hubert Jenővári, did not allow them. However, when Jenővári was replaced by Zoltán Molnár in the directorial position, Balkan Futourist could rehearse at the cultural house. With the dissolution of Ganz-MÁZAG, the long-planned new club in the basement of the Cultural House could also became a reality. It was named Fekete Lyuk (Black Hole). Balkan Futourist played a big role in the physical formation of the club. The band started to build the stage and cover the walls with graffiti, while preserving and emphasizing the run-down features of the basement. On February 8, 1988, the first concert in Black Hole was performed by the band Baby line, and the next two days were dominated by concerts by Balkan Futourist.
After having put out a single and an LP, Balkan Futourist disbanded at the time of the political transition. Kistamás gave up his career as a musician, except for a number of Kontroll memorial concerts, but he did not stop performing. He was on the stage with the theater company of András Jeles (Monteverdi Birkózókör: A mosoly birodalma), and he performed in the movies of Sándor Sőth and András Monori M. (Peter in Wunderland; Meteo). In the 2000s, he actively participated in Supergroup, an organization aiming to raise public awareness of various issues through a number of creative projects.
Списък библиография
bigtom. "Kontroll alatt." Debrecen Online, October 19, 2009. http://www.deol.hu/main.php?c=18914&print=1.
Budai, Krisztián. Privát Rocktörténet (48. Rész): Kontroll Csoport. Accessed April 29, 2018. https://www.youtube.com/watch?v=SpBpIEDVB4U.
Diószegi József. "Megszűnik Till Attila volt cége." Napi.hu, October 21, 2010. https://www.napi.hu/magyar_vallalatok/megszunik_till_attila_volt_cege.462409.html.
Janovich Albin, and Modor Bálint. "Láncfűrész és irodalom a Mélycsarnokban." Litera | Az irodalmi portál, April 17, 2015. http://www.litera.hu/hirek/lancfuresz-es-irodalom-a-melycsarnokban.
Jávorszky, Béla Szilárd. "Nosztalgia-Kontroll (Új Magyarország, 1992. Március 10.)." Accessed April 29, 2018. http://www.jbsz.hu/kiemelt-cikkek/56-cikkek/kezdetek-90869/932-nosztalgia-kontroll.
jepe. "A Nap-Nap-Tól a Sziget-Szigetig 4/1 (Cspv.Hu)." Accessed April 29, 2018. https://cspv.hu/08/08/nap_nap_sziget01/.
"Kontroll Csoport - Blog." Accessed April 29, 2018. http://www.kontroll-csoport.hu/blog/blog.php.
Kőrössy P., József. "Azért Tartottak Tőlünk, Mert Nem Értettek Minket: Beszélgetés Bárdos Deák Ágnessel. Elhangzott 2012. Március 14-Én, Nagyváradon." Várad 12, no. 2 (2013). http://epa.oszk.hu/00100/00181/00084/699.htm.
markovicsp. "Összeáll a Kontroll Csoport - Tiltott És Tűrt Dalok Bárdos Deák Ágnes Születésnapján." NullaHatEgy (blog). Accessed April 29, 2018. https://nullahategy.hu/osszeall-a-kontroll-csoport-tiltott-es-turt-dalok-bardos-deak-agnes-szuletesnapjan/.
Szőnyei Tamás. "Kontroll Csoport." M.U.Z.I.K. - rocktörténet. Accessed April 29, 2018. http://www.artpool.hu/muzik/magkontr.html.
Vízer Balázs. "Kádban üldögélni jó dolog! - Meteo." PORT.hu, August 23, 2017. https://port.hu/cikk/tv/kadban-uldogelni-jo-dolog-meteo/article-47487.
2019-02-23 19:33:13