Minutes of the emergency session of organization of the League of Communists in the Emigrant Foundation of Croatia, 1967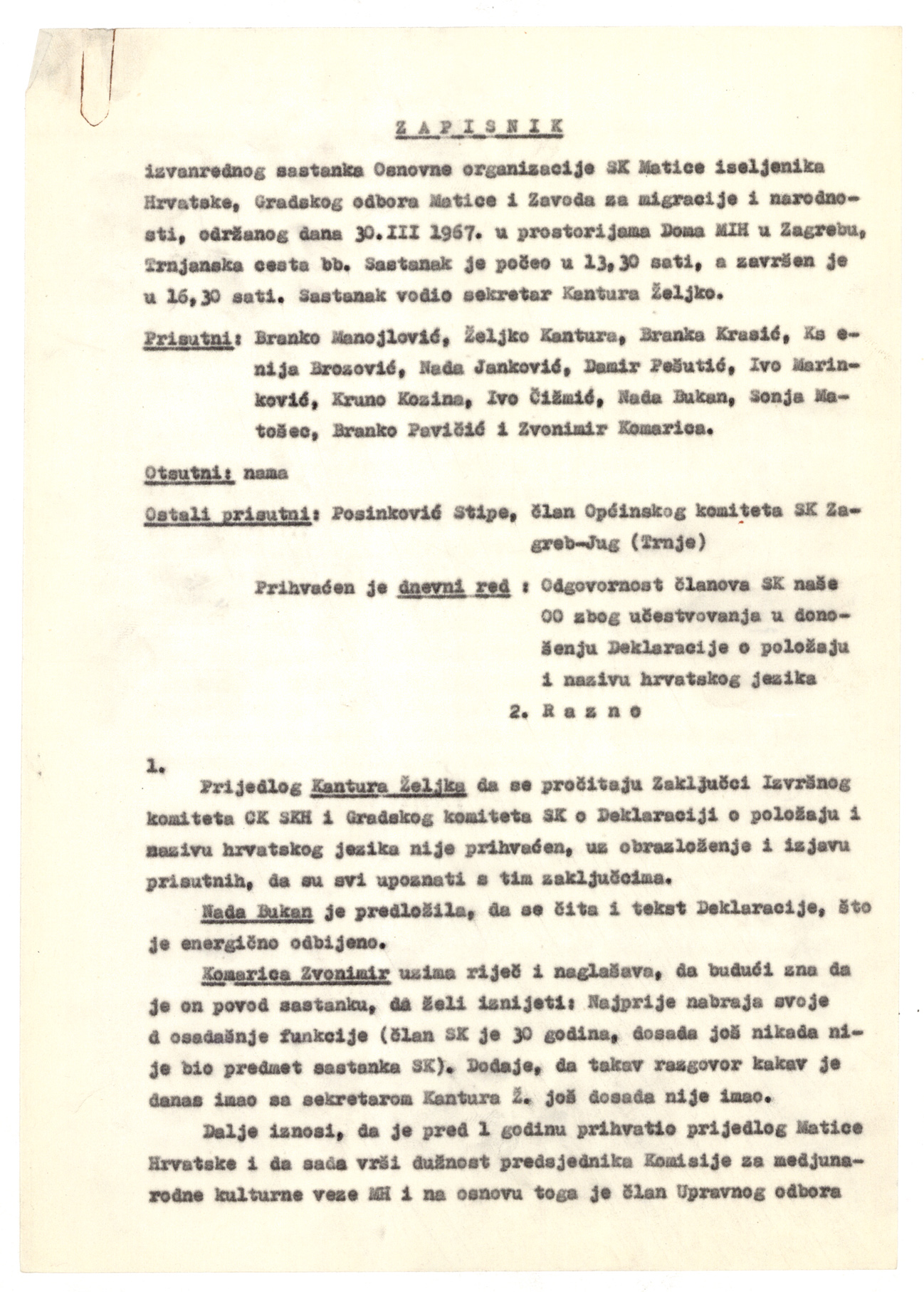 The minutes of the meeting of the three parties, convened to determine the responsibilities of Zvonimir Komarica, then director of the Institute for Migration and Ethnic Studies, and also the chairman of the Commission on International Cultural Relations of Matica hrvatska (MH) and a member of the MH managing board, regarding the adoption of the Declaration on the Status and Name of the Croatian Literary Language. Komarica was accused of participating in the debate on the text of the Declaration, and did not publicly dissociate himself nor attempt to prevent its publication. He was then expelled from the League of Communists of Croatia (LCC). The subject of the meeting was also the signing of a letter of support to Ljudevit Jonke, a signatory of the Declaration by members of the Emigrant Foundation of Croatia, Ivan Čizmić and Nada Bukan, for which they were also expelled from the LCC shortly thereafter.
By 1995, the document was, along with the other records of socio-political organisations, a part of the Archive of the Institute of History of the Labour Movement of Croatia/Institute of Contemporary History. That year, in July, it was handed over to the Croatian State Archives (CSA) ​​where it is kept today. The documents are accessible for use without any restrictions.
Сигнатура
HR-HDA-1220.3.2.1. League of Communisis of Croatia Central Committee, Executive Council, Commission for the Examination of Nationalist Phenomena in the Emigrant Foundation of Croatia, Minutes of the emergency session of organization of the League of Communists in the Emigrant Foundation of Croatia (EFC), the city board of the EFC and the Institute for Migration and Ethnic Studies, 4 April 1967
Избрани пример от
MISSING:hasAuthorsOfEntry
2017-11-14 09:41:49