Cornea, Doina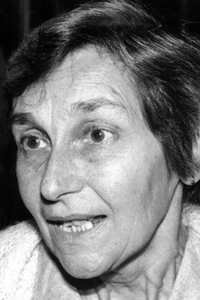 Doina Cornea (b. 30 May 1929, Brașov – d. 4 May 2018, Cluj-Napoca) was a former lecturer in French Literature at Babeș-Bolyai University of Cluj-Napoca, who emerged in the 1980s as one of the most prominent and courageous dissidents active under Nicolae Ceaușescu's regime. Well known internationally due to the efforts of the Romanian emigration and in particular of her daughter, who lived in France, Cornea was equally known nationally due to Western broadcasting agencies, among which Radio Free Europe (RFE) played a leading role. Although Cornea became very visible only after the revolt of 1987 in Braşov, her dissent had in fact begun in the early 1980s, when she engaged in improving the teaching materials for her courses by her personal efforts. Her first attempt at breaking the uniformity of the curriculum was to teach some of the writings of Paul Goma, a former political prisoner in the aftermath of the Hungarian Revolution and a leading personality in the aborted human rights movement of 1977, who emigrated to France and published several autobiographically inspired novels there. Since Goma became de facto a prohibited author when he left Romania for good, Cornea's experiment of using his works as teaching support material was immediately interrupted by the university hierarchy. She made a second attempt to introduce authors outside the official curricula to her students, however, this time using translations from French into Romanian which she made herself and distributed as samizdat issues, typewritten on very thin pages so that up to six copies could be made at the same time. Among the authors translated was Mircea Eliade, a member of the so-called generation of 1927, which brought together the most gifted intellectuals of pre-communist Romania. He distinguished himself then due to his encyclopaedic erudition, which proved instrumental after his emigration, for Eliade became a prominent historian of religions in the United States and informally the most famous Romanian abroad. Although the communist regime was then trying to recuperate Eliade in order to use him as an agent of influence in Western countries, he was officially a taboo person as a refugee and former supporter of the interwar Romanian extreme right. His former political allegiance was a little-known fact, for Eliade hid his problematic past very carefully. From among his works published abroad, Cornea translated and used in her classes an interview granted to a French writer, which focused on Eliade's life and career (without referring to his interwar political option, which surfaced publicly only much later) (Eliade 1978). Cornea's purpose was to offer a better role model to her students than the communist canon did. In the foreword to the post-communist edition of her samizdat translation from Eliade's book-length interview, Cornea explicitly stated her motivation for selecting it as teaching material: "The young reader, who is unfortunately used to certain patterns of thinking, will be amazed from the beginning by the freedom, the openness and the creativity in Eliade's thinking" (Eliade 1992, 5). Driven by such ideas on education, she managed to publish by herself six different issues of a samizdat journal including translations from censored authors, some of which are now preserved in the Museum of the Sighet Memorial (Cornea 1990).
This attempt to challenge the communist curriculum was the motivation for her early retirement from the university. In reality, Cornea's professional marginalisation was not caused by her unofficial translation from Eliade, from whose works on the history of religions the communist regime had allowed the translation and official publication of some limited-circulation editions, but by her first letter to RFE. Broadcast in 1982, this open letter criticised the educational policies of Ceaușescu's regime, while defending Romanian cultural traditions and Christian moral virtues, which Cornea considered fundamental in the formation of the younger generation. Like other dissidents in Central Europe, she believed in the moral rebirth of the nation, an imperative goal that could be achieved only by speaking the truth. However, her position was not secular, but religious, and originated in her allegiance to the repressed Greek-Catholic Church in Transylvania, which in 1948 had been forcibly incorporated into the Orthodox Church of Romania. In this letter, Cornea also argued for a reform of the communist system of education, envisaging a return to the interwar model focusing on the humanities and the reintroduction of the pre-communist literary canon. A turn in her dissident activity occurred in 1987, when she began to address her letters not only to RFE, but also to Ceauşescu in order to refer to the pitiable state of Romanian education. In her first open letter to the head of the communist state, she not only analysed the cause of decay, but also proposed a detailed programme for educational reform, which required the de-politicisation of schooling, the autonomy of higher education, the free circulation of books and professors, and the reintroduction of banned authors in textbooks and of religion in the school curriculum. After the strike of November 1987, which took place in her native city of Brașov, Cornea further radicalised her position by publicly defending the workers' rights and spreading manifestos in their support. In retribution, the secret police arrested and brutally interrogated her for more than a month. Although released due to international pressure, Cornea was thereafter under round-the-clock surveillance until the collapse of communism.
In the following two years, however, she emerged as a leading dissident in communist Romania. Her most important critical analysis came to be known as "the letter of 23 August," for this was the date of its broadcast by RFE, coinciding with the Romanian national day during communism (in fact the day when Romania changed sides in WWII, continuing the war on the side of the Soviet Union). This document of 1988 was her second open letter to Ceauşescu and constituted her most elaborated programme of political, economic, and social reforms. This programme went beyond the usual Gorbachev-like reforms meant to restore "socialism with a human face," and asked for the separation of party and state, even for the independence of the legislative, executive, and judiciary; the guarantee of basic rights, such as freedom of speech and association; the end of the communist party's monopoly on information; and the introduction of market criteria in order to reform the inefficient economy (Cornea 1991). In short, Cornea argued in 1988 for a change of regime, envisaging the coming breakdown of communism in the region. Despite being under continuous surveillance, she managed to send this letter to RFE, together with her response to an invitation to participate in Solidarity's conference in Cracow (which she could not honour due to the travel restrictions imposed by Ceaușescu's regime). This was possible only thanks to a fortunate chain of events and the daring actions of Josy Dubié, a Belgian journalist, who came to Romania in order to make a documentary film. Cornea wrote both letters in minuscule writing on cigarette paper and sewed them inside the head of a doll, which she handed to Dubié, whom she had met by coincidence in the centre of Cluj. After checking Cornea's identity with the Belgian embassy in Bucharest, he did his best to return to Cluj and interview her. A former sailor with an adventurous spirit, Dubié managed to deceive the secret police agents who followed his car, and after a race through the streets of Cluj worthy of Hollywood films, he managed to get to Cornea's house. Due to this meeting, the Belgian journalist took with him across the border not only the doll with the two texts inside, but also footage with Doina Cornea, which he included in his film The Red Disaster. On his way back to Belgium, he delivered the doll with the two letters to the RFE studio in Munich. This series of fortunate circumstances that allowed Cornea's messages to reach RFE epitomises the adversities that all Romanians (especially those in provincial cities) faced when trying to make their criticism public via Western media (C. Petrescu 2013).
Besides the letter of 23 August, Cornea wrote several others in 1988–1989, including one to re-state her solidarity with the strikers in Brașov and another to ask Pope John Paul II to support the re-establishment of the Greek-Catholic Church (Cornea 1991). However, she remained mostly known for her contribution towards raising international awareness of Ceauşescu's project of demolishing Romanian villages in order to transform them into so-called agricultural centres. In comparison with Cornea's programme of reforms, which was pragmatic and future-oriented, her letter against the systematisation of villages was nostalgic and past-oriented. "Village spirituality," as Cornea put it, represented the essence of Romanian identity, so the plan that envisaged the resettlement of peasants into blocks of flats was nothing less than an attempt to destroy "the soul of the nation." Drawing upon the idea that the village represented the repository of national traditions, she managed to get the support of other individuals for her letter. To give an idea about the scale of such collective protests in communist Romania, Cornea's letter against the demolition of villages was finally endorsed by twenty-eight people and represented one of the most supported open letters against Ceaușescu's policies. This protest was unique because it united Romanians and Romanian Hungarians alike. Moreover, the letter was important because it stirred outrage among Western audiences and mobilised internationally the critics of the absurd policies promoted by Ceauşescu's regime. Besides the letter, which was destined mostly for the Romanian public, the aberrant and arbitrary plan of systematisation became known to a wider audience via The Red Disaster, the documentary made by Josy Dubié, to which Cornea also contributed. Aware of the fact that in Romania he was not allowed to film freely, Dubié pretended to be a tourist accompanied on vacation by his alleged lady-friend, in reality his camerawoman, and used a hidden camera to shoot images which no-one had previously captured. Even more important was the fact that Dubié managed to get the tape of his film out of Romania. He tricked the customs officers who subjected him and his companion to a rigorous body search and examined their car down to the smallest detail (due to his known encounter with Cornea), by hiding the 16 mm video tape inside audio cassettes. Broadcast by TV channels in most Western European countries and by Hungarian public television, the film presented the large-scale demolitions in Bucharest, which were reminiscent of natural disasters such as earthquakes or of wartime bombardments. Cornea's fragile appearance was the shock image of the film: the Western viewer could not remain untouched by this Mother Theresa look-alike who was standing alone against Ceauşescu's oppressive regime. Although her words were not really intelligible, she seemed to embody the nation's redemption from a miserable and humiliating existence. In short, her image greatly enhanced the message of The Red Disaster, triggered significant Western support for the preservation of Romanian rural areas, and led to the establishment of Opération Villages Roumains. This was a civil society network originating in Belgium but active also in France and other Western countries, which effectively stopped these demolitions by encouraging Western rural communities to adopt villages in Romania. By the end of communism, Opération Villages Roumains had become the largest ever network of transnational support against the abuses of Ceauşescu's regime. At the same time, Cornea emerged as the very symbol of the feeble but resolute opposition to this dictatorship.
Perhaps her most revolutionary position was the endorsement of a collective letter, signed by dissidents and non-dissidents across the country, asking for the non-election of Nicolae Ceauşescu at the congress scheduled for November 1989. In short, Cornea was among those few Romanian intellectual dissidents that raised issues outside those related to the sphere of cultural policies, which were her immediate interest. At the same time, she was also among the even fewer that genuinely tried to organise a cross-class alliance against Romanian communism. Cornea was known as a defender of the workers, not only because of her public position after the revolt in Braşov in 1987, but also because of her collaboration with and support for a group of workers that tried to organise an independent trade union following the Polish model (Cornea 2009). In December 1989, Cornea emerged as a leading public figure, and she continued for some time to play a significant role as a public intellectual. In the aftermath of the revolution, she was co-opted together with several other dissidents into the first post-communist form of political organisation, the National Salvation Front. When this turned out to be dominated by neo-communists interested only in seizing power in post-communism, she withdrew in order to support the emerging political opposition and the reestablishment of civil society. Against the political domination of the neo-communists, Cornea also actively engaged herself in the preservation of that part of collective memory that was banned under communism, in particular that related to the Romanian Gulag. In the last years before her death, she ceased to play a public role in post-communist Romania.
Основател
Създател
Притежател на
[!]hasAuthorsOfEntry
Petrescu, Cristina
Pintilescu, Corneliu
Събрал материали за
Списък библиография
Cornea, Doina. 1990. Liberté? Entretiens avec Michel Combes. Paris: Criterion.
Cornea, Doina. 1991. Scrisori deschise şi alte texte (Open letters and other texts). Bucharest: Humanitas.
Cornea, Doina. 2009. Ultimele caiete (The last notebooks). Bucharest: Fundaţia Academia Civică.
Eliade, Mircea. 1978. L'épreuve du labyrinthe: Entretiens avec Claude-Henri Rocquet. Paris: Belfond.
Eliade, Mircea. 1992. Încercarea labirintului (The test of the labyrinth). Cluj-Napoca: Dacia.
Petrescu, Cristina. 2013. From Robin Hood to Don Quixote: Resistance and Dissent in Communist Romania. Bucharest: Editura Enciclopedică.
2019-01-14 15:27:22