Combes, Ariadna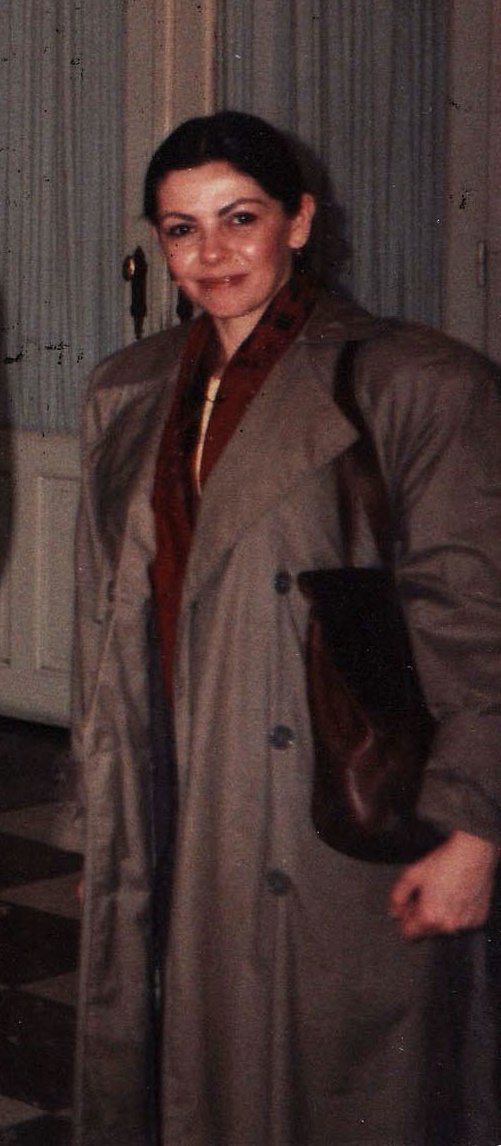 Ariadna Combes (née Iuhas, b. 19 November 1954, Cluj – d. 9 November 2016, Paris), the daughter of the Romanian dissident Doina Cornea, was a Romanian activist, translator, and journalist, who during the 1980s supported the anti-communist activities of her mother. She was the first child of Doina Cornea and the lawyer Leontin Cornel Iuhas. In 1973, Ariadna Iuhas started her studies in philology at the University of Cluj. Taking advantage of a scholarship to France in 1976, she decided not to return to Romania. In France, she married Michel Combes and continued her studies. She obtained a MA degree in English literature from the University of Grenoble and a BA degree in French literature from the University of Brest (Florescu 2016).
Ariadna Combes's important role in supporting the activities of her mother began in the early 1980s. At that time the Romanian communist regime started to react promptly to Doina Cornea's oppositional activities and the Securitate tried to silence her by cutting off her means of communication with the outside world. Ariadna Combes made sure that the Romanian authorities would fail in their endeavour to isolate her mother. Firstly, by using informal channels she managed to send her mother many books that were not available in Romania due to the censorship and the cultural isolation imposed by Ceaușescu's Theses of July 1971. Among them was Mircea Eliades's L'épreuve du labyrinthe, which Doina Cornea translated into Romanian, transforming her manuscript into a samizdat publication with a help of friends and relatives (Petrescu 2013, 308–309; Cornea 2006, 73). Because Doina Cornea expressed her opposition to the communist regime through her letters to the Romanian department of Radio Free Europe (RFE), Ariadna Combes made sure that these letters reached their destination. Sometimes she was directly involved in getting her mother's writings out of Romania but in most cases she was responsible for receiving, typing, and translating them and sending them to RFE and international newspapers. Ariadna Combes also closely monitored the reaction of the international media towards the case of her mother and collected in distinct files the articles published about her by Western newspapers (Cornea 2009, 196, 199, 202, 265).
After her mother Doina Cornea and her brother Leontin Iuhas were arrested in 1987 due to their expression of solidarity with the 1987 workers revolt against the communist regime in the city of Brașov, Ariadna Combes organised an international campaign to secure their release from prison. In the same year of 1987, she was granted an audience at the French Ministry of External Affairs. This audience was the beginning of a series of Western diplomatic pressures on the Romanian authorities to release Doina Cornea and her son, and also to grant the Combes family visas to visit Doina Cornea. In 1988, the communist regime declared Ariadna Combes "an undesirable person on the territory of Romania," and thus she could no longer visit her mother. As a result she increasingly focused on raising the awareness of international public opinion about the case of her mother and acted as her representative in various official situations. In 1988, she accepted on behalf of her mother the prizes offered by two organisations for human rights in Norway and Denmark and organised a committee of support for Doina Cornea that included important French political leaders, among them the French president François Mitterrand. After the broadcasting of Josy Dubié's film The Red Disaster, which featured an interview with Cornea about destruction of the Romanian villages, many French citizens including public personalities expressed their support for the Romanian dissident. Consequently, Ariadna Combes turned her committee of support into an official organisation Comité de soutien à Doina Cornea, which numbered 2,000 members (Cornea 2009, 266–269).
From 1988 until the fall of the communist regime in Romania, Combes was constantly invited to conferences organised by human rights associations and universities in France, Belgium, Switzerland, Germany, and England to speak about Doina Cornea's situation and the cases of other persecuted Romanian dissidents. In 1989, on her initiative, the committee of support for Doina Cornea asked its members to support her candidacy for the Nobel Peace Prize. This was a movement intended not only to make known the case of the dissident Doina Cornea worldwide but also to pressure the communist regime not to take radical measures against her. Also in 1989, Ariadna Combes honoured the invitation sent in Doina Cornea's name and spoke in front of the Council of Europe and the European Parliament about the situation in Romania, the fate of national and religious minorities and the persecutions that dissidents were subjected to by the communist authorities. She also involved herself in Opération Villages Roumains (OVR), a transnational movement to support opposition to the demolition of the Romanian villages entailed by the programme of rural systematisation, a policy promoted by Ceaușescu. Her commitment to defending human rights in communist Romania and her numerous stands against the regime there gained official recognition as she was invited to act as one of the vice-presidents of the Paris-based French League for the Defence of Human Rights (affiliated to the Fédération Internationale des Droits de l'Homme) (Cornea 2009, 269–272).
After the fall of the communist regime in December 1989, Ariadna Combes supported the building of Romanian civil society and protested on many occasions against the new political leaders who had come to power in Romania and who had close connections with the communist regime. She died on 9 November 2016 in France and her funeral urn was buried in her native town of Cluj-Napoca.
MISSING:hasAuthorsOfEntry
Petrescu, Cristina
Pintilescu, Corneliu
Списък библиография
Archives of the National Council for the Study of the Securitate Archives (Arhiva Consiliului Naţional pentru Studierea Arhivelor Securităţii - ACNSAS), Files: I 000 666, P 000 014.
Cornea, Doina. 1990. Liberté? Entretiens avec Michel Combes. Paris: Criterion.
Cornea, Doina. 1991. Scrisori deschise şi alte texte (Open letters and other texts). Bucharest: Humanitas.
Cornea, Doina. 2009. Ultimele caiete (The last notebooks). Bucharest: Fundaţia Academia Civică.
Eliade, Mircea. 1978. L'épreuve du labyrinthe: Entretiens avec Claude-Henri Rocquet. Paris: Belfond.
Eliade, Mircea. 1992. Încercarea labirintului (The test of the labyrinth). Cluj-Napoca: Dacia.
Petrescu, Cristina. 2013. From Robin Hood to Don Quixote: Resistance and Dissent in Communist Romania. Bucharest: Editura Enciclopedică.
Verdery, Katherine. 2014. Secrets and Truths: Ethnography in the Archive of Romania's Secret Police. Budapest: CEU Press.
Moldovan, Silviu, interview by Pintilescu, Corneliu, February 01, 2017. COURAGE Registry Oral History Collection
2018-10-18 19:09:50