Gotovac, Vladimir (Vlado)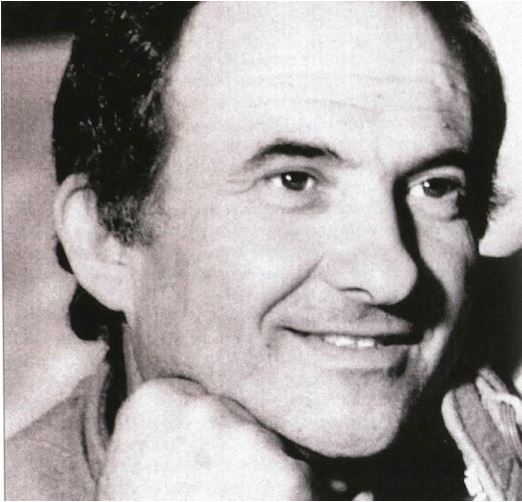 Vladimir (Vlado) Gotovac (Imotski, September 18, 1930 - Rome, December 7, 2000) is a Croatian writer, poet, philosopher, journalist and politician and one of the most famous Croatian cultural oppositionists from the socialist period. Due to his advocacy of pluralistic democracy, he was persecuted by the Communist authorities.
He attended elementary school in Prnjavor (Bosnia and Herzegovina), Župa Biokovska and Lovreć, and secondary school in Imotski and Zagreb, where he graduated from the Classical Gymnasium. He graduated with a degree in philosophy from the Faculty of Humanities and Social Sciences of the University of Zagreb.
He began to publish poems in the journal Tribina in 1952 and then began to publish philosophical and art critiques, essays, stories and radio dramas in other publications. In 1955, he was employed as a journalist and editor of the culture and drama department of the Zagreb Radio-Television (RTZ) where he worked until his arrest in 1972. At that time, he also edited the journals Međutim (1953) and Razlog (1969), and from July to December 1971 he was the editor-in-chief of Hrvatski tjednik (Croatian Weekly), a newspaper published by Matica hrvatska that advocated the program of the Croatian national movement (Croatian Spring).
As editor of Hrvatski tjednik, but also because of his uncompromising critical writing, Gotovac was one of the most prominent persons of the Croatian Spring in 1971. Due to his work in the field of culture, he was, with a dozen Croatian intellectuals, arrested in January 1972 under the indictment that he wanted to overthrow the socialist system in Yugoslavia. He was sentenced to four years in prison with an additional three-year loss of civil rights, and endured the entire sentence, not seeking any pardon.
He did not adhere to the prohibition against public speech, and after he granted an interview to foreign journalists in 1977, he was again indicted and in 1981 sentenced to two years in prison, and another four year loss of civil rights. At that trial, he stated: "The only purpose of my work is to strive to secure a righteous, human, just and free community - for everyone and everywhere; a community that does not only tolerate diversity but rather delights in it (…). Such a happy and diverse world - that is my dream! If I have to be tried because of that, I consent to it because without that dream, neither I nor my work have any purpose". (https://vladogotovac.org/).
As one of the most important advocates of liberal ideas in Croatia at the end of the 1980s, he was politically engaged. In May 1989, together with Slavko Goldstein and Dražen Budiša, he founded the first Croatian political party formed after the reintroduction of a multi-party system (HSLS - Croatian Social Liberal Union). In 1990, after 18 years of unemployment and isolation, he was been employed by the Croatian Radio Television (HRT) as an advisor to the Director General. In that same year, he was elected president of the then restored Matica hrvatska and was in charge until February 1996, when he was elected chairman of the HSLS (then renamed to Croatian Social Liberal Party). After a rift in the HSLS (November 1997), he established a new political party of the centre - the Liberal Party (LS), and served as its chairman until his death in 2000. He was elected to the Croatian Parliament three times (1992, 1995 and 2000), and in 1997 he was the presidential candidate of a group of oppositional parties.
In addition to his poetry and philosophical works, he wrote some books in which he spoke of his prison experiences in communism. In his book Zvjezdana kuga (Gotovac 1995), he published his prison records from 1972 and 1973, and the book Moj slučaj (Gotovac 1989) contains his defence speeches on the 1981 trial. His collected works were published in 1995 in seven books (Hekman 1995), and his poems have been included in almost all anthologies of contemporary Croatian poetry and translated into Albanian, English, French, German, Romanian, Italian and some Slavic languages. He was awarded the City of Zagreb Award (1968) and the Tin Ujević Award (1991). In Croatian history, he is mostly remembered as an ever-engaged intellectual, poet and brilliant speaker. In memory of his life and work, the Vlado Gotovac Institute was founded in 2001, and in 2009 a website dedicated to him (https://vladogotovac.org/) was launched.
Уебсайт
Създател
Списък библиография
Benčić Rimay, Tea (ed.). 2008. Dossier: Vlado Gotovac. Zagreb: Institut Vlado Gotovac.
Bratulić, Josip (ed.). 1997. Matica hrvatska: 1842. - 1997. (Matica hrvatska: 1842-1997). Zagreb: Matica hrvatska.
Brleković, Josip. 2002. Hrvatski tjednik: Bibliografija - 1971. (Croatian Weekly: Bibliography – 1971). Zagreb: Matica hrvatska.
Bućin, Rajka. 1998. Matica hrvatska: sumarni inventar (Matica hrvatska: summary inventory). Zagreb: Croatian State Archives.
"Deklaracija o nazvu i položaju hrvatskog književnog jezika" ("Declaration on the Name and Position of the Croatian Literary Language"). Matica hrvatska. Accessed 20 August, 2018.
Gotovac, Vlado. 1989. Moj slučaj (My case). Ljubljana; Zagreb: Cankarjeva založba.
Gotovac, Vlado. 1995. Zvjezdana kuga: zatvorski zapisi 1972-1973. (Star plague: prison notes 1972-1973). Zagreb: Nakladni zavod Globus.
Hekman, Jelena (ed.). 1995. Vlado Gotovac: Djela (Vlado Gotovac: works). Zagreb: Nakladni zavod Hrvatske.
Hekman, Jelena. 2002. Izvještaj o kontroli zakonitosti rada Matice hrvatske (Report on controlling the legality of the work of Matica hrvatska). Zagreb: Matica Hrvatska.
Jelčić, Dubravko. 1992. "Sto pedeset godina Matice hrvatske" (The Hundred and Fifty Years of Matica Hrvatska"). Radovi Leksikografskoga zavoda 'Miroslav Krleža', 2 (1992): 81-96.
Samardžija, Marko (ed.). 2017. Deklaracija o nazivu i položaju hrvatskog književnog jezika 1967.-2017.: vijesti, komentari, osude, zaključci (Declaration on the Name and Position of the Croatian Literary Language 1967-2017: news, comments, judgements, conclusions). Zagreb: Matica hrvatska.
Štambuk-Škalić, Marina. 2009. "Arhivsko gradivo o Matici hrvatskoj u fondovima Hrvatskog državnog arhiva" ("Archival records on Matica hrvatska in the funds of the Croatian State Archives"). Kolo 1-2 (2009). Matica hrvatska, Accessed October 4, 2018.
Zidić, Igor (ed.). 2017. Hrvatska i Hrvatsko proljeće 1971. Zbornik radova (Croatia and the Croatian Spring 1971: proceedings ). Zagreb: Matica hrvatska.
Fabekovac, Mario, interview by Mihaljević, Josip, October 02, 2018. COURAGE Registry Oral History Collection
2018-12-11 12:17:58