Dodig Trokut, Vladimir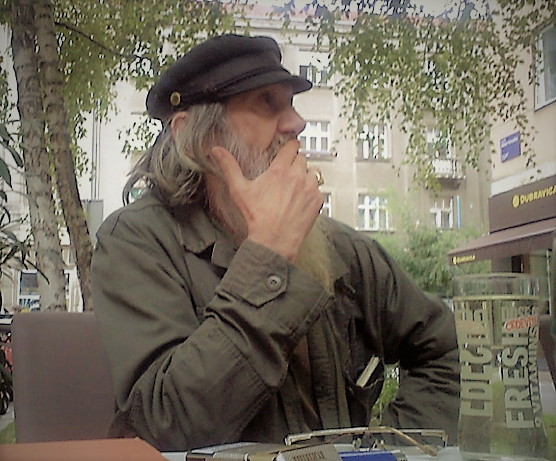 Since 1968, Vladimir Dodig Trokut has been a member of the Association of Croatian Artists. His name and work is presented in several encyclopaedias and dictionaries and so far he has staged more than 650 exhibitions, interventions, performances and installations at home and abroad. In his own words, "from 1968 I was declared an anarchist and co-founder of the Anarcho-liberal Croatian Party of Split." He was also the leader of other informal groups: the Red Peristyle Factional Group, Group 31, and Manifesto 72; he is the founder of the conceptual and post-conceptual no art and black-it-art. He has spent his entire life in Croatia. He did not have a passport because, as he says, "he was at war with the Communists. Not with bombs, but with words and deeds instead (…) First I broke that country (communist Yugoslavia) and built this one (Republic of Croatia). Now I have started to crumble this one as well."
The field of his work is very broad, though there is relatively little information on all of his activities. He states that he has been involved in twenty-four different types of art. He has also written poetry. From literature he moved to anthropology and ethnography and then to art. In the creative process, he first seeks to feel the object and its energy, which then turns into a new form; instead of creating something out of nothing, Trokut works with existing objects and turns them into something new. For example, he creates an image using the colour of the discarded, but painted canvas; although he studied as a sculptor in traditional media, he prefers working with found objects, giving them a new value. For him, art is an area of inquiry; his approach calls into question categories such as the durability, value and distinctiveness of a piece of art.
In 1968, he started to set an entirely new direction for visual art, so-called black art (black it out). Otherwise, he says he is "a shaman, art collector, gallery owner, museologist, donor, theorist, lecturer, author, fashion stylist, founder of the Anti-museum Headquarters, anti-war groups and special purpose units (Heritage Preservation Unit) who saved more than a thousand artworks in war-torn areas (on all sides)."
However, he is best known for the Anti-museum project, which includes the No Art Collection as well.
Основател
Създател
Оператор
Притежател на
Събрал материали за
2017-10-20 12:29:14