Izvještaj o radu Komisije za ideološki rad CK SKH u vremenskom razdoblju od IV. do V. kongresa SKH, 1964.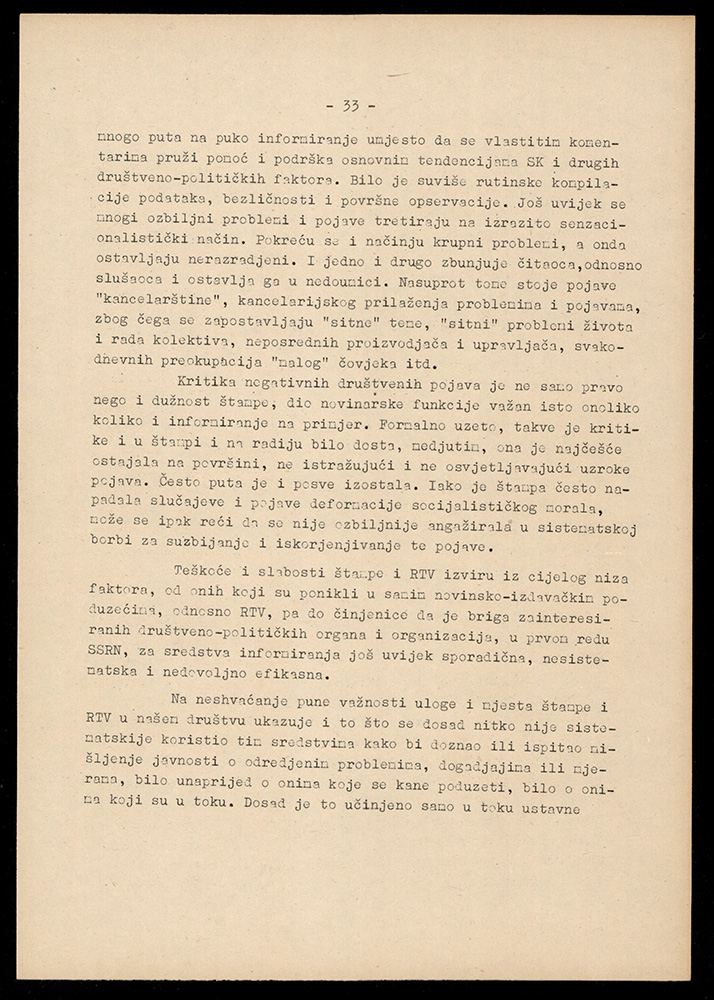 The report was dated October 1964, detailing the work of the Commission in the fields of culture, science and the media. It documents ongoing and systematic monitoring and the course of activities in the above-mentioned areas by the Commission through the practice of extended Commission meetings, discussions on prepared materials, as well as personal contacts by members and associates of the Commission with people from specific fields of cultural and scholarly life. In the report, we read numerous reviews and criticisms of cultural activities and the media. For example, the members of the Commission believed that Radio-Zagreb alone "managed to generate for one area the type of associates who will constantly and persistently fight for certain criteria, relationships, definitions and meanings of a specific art form from certain conceptual (clearly socialist) and aesthetic positions." Publishing was considered expensive, criticized for the low circulation of books and the neglect of the literature of Eastern countries, as well as the inadequate work of publishing councils. In film production, it was said that there were very rarely high-quality achievements: the greatest extent is achieved with cartoons of the Zagreb School of Animation, but other films "rarely use their range and conceptual profile to be active participants in performing social functions." The editorials of literary journals were criticized for the lack of understanding of social processes and development, the lack of Marxist criteria, and the presence of national overtones and romantic references to the past. However, the report says that conversations conducted in the Commission, for example with the people from the magazine Telegram, as well as other forms of influence at all levels and on different occasions, have shown that "it can speed up the process of conceptual cleansing with anarchic, pseudo-liberal, petit bourgeois and similar aberrations."
Сигнатура
HR-HDA-1220. 3.3.5.4. CC LCC, Ideological commission of the CC LCC 1956 – 1965, Report on the work of the Commission for ideological work of CC LCC in the period from IV to V congress SKH, 1964.
2018-02-27 09:34:36