Fond Milana Knížáka v Památníku národního písemnictví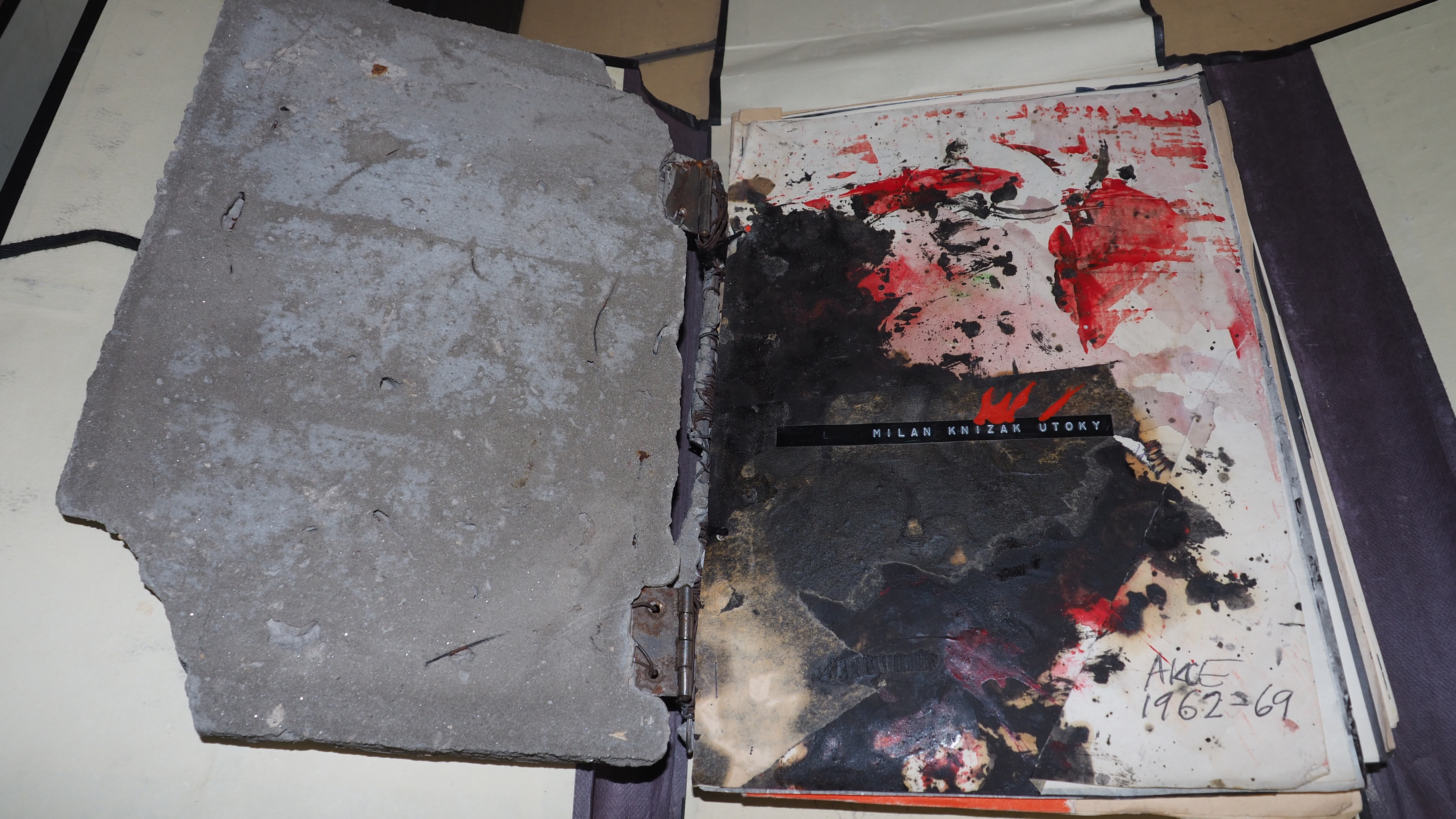 The personal collection of Milan Knížák (born 1940), a Czech artist, poet and founder of the group Aktual, contains unique books of the events organised by Aktual, one of the sources mapping the life of the provocative artist, the Czechoslovak underground and alternative art of the 1960s.
Произход, история и културни дейности
Milan Knížák is a Czech artist, musician and performer. His works cover a broad range of activities – art, architecture, fashion, design, music, poetry, photography or action art. Since the beginning of the 1960s, he started with performance art – happenings – and realised several installations in Prague. Knížák and his friends founded a group called "Aktuální umění" (Actual Art), later known as "Aktual", in 1963. It was a group of young artists focusing on new forms and performance art, one of its goals was to connect art and common life. The group published a samizdat magazine of the same name as well as newspapers and flyers and they organised street events, exhibitions and happenings. In 1967, Knížák founded a music group also called "Aktual" in Mariánské Lázně. He spent the late 1960s (1968–1970) in the USA where he attended events organised by the Fluxus movement. During the 1970s, he was followed by the State Security and arrested several times. He was the rector of the Academy of Fine Arts (AVU) after 1989 and director of the National Gallery in Prague between 1999 and 2011.

Some of Aktual's events were documented by Knížák in two unique books, that he sold in March 1971 to the Literary Archive of the Museum of Czech Literature (LA PNP) after a deal with its employee, PhDr. Jaromír Loužil. This acquisition was interesting for PNP mainly because it documents the artistic and literary effort in the 1960s. By similar purchases, PNP not only gained materials created by "unofficial" authors, but at the same time, financially supported them. The collection was not further broadened and consists therefore only of the books of Aktual.

The documentary books were created by Milan Knížák starting in 1964. Because Knížák could not officially enter public space, creating samizdat books – art objects was his way of expression. Milan Knížák was fascinated by books from childhood and he thought of them as missions of their own kind. Therefore, he decided to create his own publications to document not only his work, but also his thoughts and feelings. He aimed not to let his books "die in the library" but created them to communicate a message. He created the documentary books until 1980, though recently returned to creating them. Dozens of his documentary books are now part of private or gallery collections, mostly abroad. Some of the books remain with Knížák. PNP, National Gallery in Prague and the Olomouc Museum of Art are among the Czech institutions which own some of them.
Описание на съдържанието
The Milan Knížák Collection in the Museum of Czech Literature consists of two manuscripts of his books – art objects, connected with actions of the group Aktual from 1962–1969. It is a valuable source documenting the Czechoslovak underground and alternative art of the 1960s.
Съдържание
други произведения на изкуството (които не могат да бъдат класифицирани като картини, скулптури, графики и др.): 0-9
Оператор(и)
Собственик/ци
Теми
Основател
Създатели на съдържание
Личност(и), събрали колекцията
Подкрепящи
Важни събития в историята на колекцията
Списък библиография
Český rozhlas. 2016. "Milan Knížák: Největší avantgarda je svoboda, a tu dnešní umění nemá." Last modified June 20. https://vltava.rozhlas.cz/milan-knizak-nejvetsi-avantgarda-je-svoboda-a-tu-dnesni-umeni-nema-5086884.
Badatelna.eu. 2018. "Literární archiv Památníku národního písemnictví - Knížák Milan." Accessed September 7. http://www.badatelna.eu/fond/4213/?q=Kn%C3%AD%C5%BE%C3%A1k%20Milan.
Česká televize. 2018. "Fenomén underground: Aktual. Milan Knížák." Accessed August 29. https://www.ceskatelevize.cz/porady/10419676635-fenomen-underground/412235100221008-aktual/7890-milan-knizak/.
The description of this collection was created with the kind help of the director of the Museum of Czech Literature (PNP) Mgr. Zdeněk Freisleben, the head of the Literary Archive of the PNP PhDr. Tomáš Pavlíček, PhD., and the curator of the Literary Archive of the PNP PhDr. Petr Kotyk.
Milan Knížák. 2018. "Životopis." Accessed August 29. http://www.milanknizak.com/zivotopis/.
PNP. 2018. Výroční zpráva 2017." Accessed July 11. https://drive.google.com/drive/folders/1gFkIAgtZwd1eqgU3AZcbMV7Kt3GWzZ5Y?ogsrc=32.
Kotyk, Petr, interview by Kůželová, Michaela, May 24, 2018. COURAGE Registry Oral History Collection
2020-03-05 09:52:49