Jaroslav Šabata Collection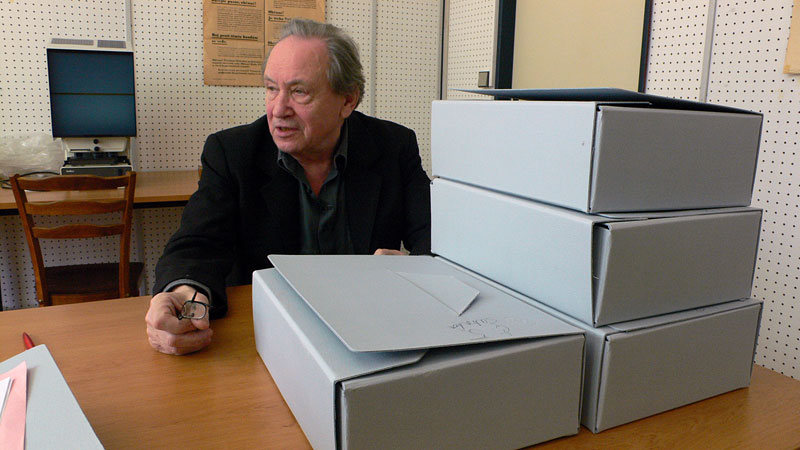 The collection of Jaroslav Šabata is a unique collection and testimony of a former member of the Communist Party and later a Charter 77 spokesperson. This collection is made up of the private documents of Šabata, which he gathered during his lifetime and which were donated to the archive after his death.
Име на колекцията
Collection of Jaroslav Šabata
Произход, история и културни дейности
Jaroslav Šabata was a former member of Communist Party of Czechoslovakia and a spokesperson of Charter 77. Šabata worked as an assistant in the Department of Psychology of Masaryk University in Brno beginning in 1951, which was gradually transformed into the Institute of Marxism-Leninism. In 1968 he became the head of the department. In his own words, from the very beginning of his active political activities, he attempted to form an oppositional anti-Stalinist orientation in the Communist Party. In July 1968 he became the secretary of the Regional Committee of the Communist Party of Czechoslovakia in Brno. At the Vysočany Congress of the Communist Party of Czechoslovakia, on August 31, 1968, he expressed a positive attitude towards the capitulation of the Czechoslovak political representation lead by Dubcek and Svoboda. In 1969, his membership in the Communist Party was suspended, and he moved from his political position to a doing manual labour on the railway. In November 1971, he was arrested and accused of subverting the Republic and sentenced to six and a half years in prison. He became one of the leaders of the opposition. In the early 1970s, a group called "Communists in Resistance" was formed around him. Šabata was conditionally released in December 1976. Shortly after the release, he signed Charter 77 and in 1978 became its spokesman after Jiří Hájek. He was arrested again on October 1, 1978, when he tried to meet Polish dissidents at the Czech-Polish border. He was imprisoned until December 1980. He actively entered politics after 1989.

The collection was created in the private archives of Jaroslav Šabata during his lifetime. Šabata kept his papers safe at his summer cottage in Dolenice. After his death, this estate passed into the possession of his descendants. His son Jan, in agreement with his daughter Anna, decided to dedicate the entire estate, which was neither elaborated nor systematized, to the Moravian Provincial Archive in Brno. Although the National Archive of the Czech Republic had interest in the Fund, Jan Šabata decided to donate the fund to the Moravian Provincial Archive in Brno. He did so because he felt that Brno was always closer to his father and that he would have wanted it that way.

The personal archive of Dr. Jaroslav Šabata was handed over on August 27, 2012 to the Moravian Provincial Archive in Brno by his grandson Petr Šabata. According to the donation contract, there were 17 boxes of documents from the years 1985 to 2012. After being taken into the register, the scope of the fund was specified as 41 registration units (14 cartons and 27 parcels). The submitted files also included Šabata´s special library, which, after gross classification, consisted of seven archival boxes. A substantial part of the library consists of unsaleable publications of the Office for Documentation and Investigation of the Crimes of Communism from 1998 to 2004 and various, mostly short-term, journals from the 1990s. These books and magazines were not included in the archive collection.

In 2014 and 2015, Petr Šabata brought another estate, which was found at the summer residence of Jaroslav Šabata, and these materials were included in the fund.
Описание на съдържанието
Součástí fondu jsou dva podrobné životopisy Jaroslava Šabaty, z nichž jeden je psaný z hlediska národnostního (jeho otcem byl Čech, matka byla Němka). Oba životopisy psal Šabata sám. Dále pak tisky a hodnocení o srpnu 1968, zprávy o Šabatově činnosti v disentu, Charta 77, přehledy a protesty proti věznění, dokument Impuls 99, který vyzýval k evropské integraci, dokumenty o Šabatových stycích s politickými osobnostmi, doklady o jeho činnosti na Úřadu vlády a politickém vývoji po roce 1990, jeho zápisky a materiály k výuce na Fakultě sociálních studií, sociologické studie navazující na výuku a další.

Sbírka také obsahuje vzácné dokumenty, jako například námět na televizní hru Josef Platz: Z letopisů Máselné Lhoty, která vyprávěla o Šabatově letákové akci v roce 1971, kterou napsal v roce 1996. Z nejzajímavějších pak jsou rozhovory s Jaroslavem Šabatou, například o průběhu událostí z let 1963 až 1968, jeho studie o srpnu 1968 "Srpnový úskok, Proč ztroskotal Alexander Dubček" a "Zlomový okamžik Pražského jara", úvahy Šabaty k politickému vývoji a další prohlášení Charty 77. Zajímavostí je pak také dopis manželky? Květy Šabatové, ve kterém protestuje proti tomu, že Václav Havel označil Jaroslava Šabatu za politického intrikána. 
Съдържание
публикации: 10-99
ръкописи (его-документи, дневници, бележки, писма, чернови и др.): 10-99
сива литература (архивни документи като брошури, бюлетини, листовки, доклади, разузнавателни досиета, записи, работни документи, протоколи от заседания): 10-99
Оператор(и)
Собственик/ци
Теми
Основател
Създатели на съдържание
Личност(и), събрали колекцията
Важни събития в историята на колекцията
Достъп
parts are closed to the public
Списък библиография
Pažout, Jaroslav. Výbor na obranu nespravedlivě stíhaných: politická perzekuce, opozice a nezávislé aktivity v Československu v letech 1978-1989 : sborník grantového projektu. Č. 3. 2009.

Jaroslav Šabata: Vždycky někdo vyhraje a někdo prohraje | Archiv Plus. (n.d.). Retrieved from http://www.rozhlas.cz/plus/archivplus/_zprava/jaroslav-sabata-vzdycky-nekdo-vyhraje-a-nekdo-prohraje--1733018

Petr Keller. (n.d.). Odsouzení Jaroslava Šabaty v souvislosti se setkáním československých a polských disidentů na československo-polských hranicích v roce 1978. Retrieved from http://www.vons.cz/data/pdf/sbornik_vons_1/vons_keller.pdf

Zemřel disident Jaroslav Šabata – Novinky.cz. (n.d.). Retrieved from https://www.novinky.cz/domaci/270431-zemrel-disident-jaroslav-sabata.html
Růžičková, Michaela , interview by Vrtálková, Anna , June 01, 2017. COURAGE Registry Oral History Collection
2020-02-26 13:52:53