FV 112/15 Group Collection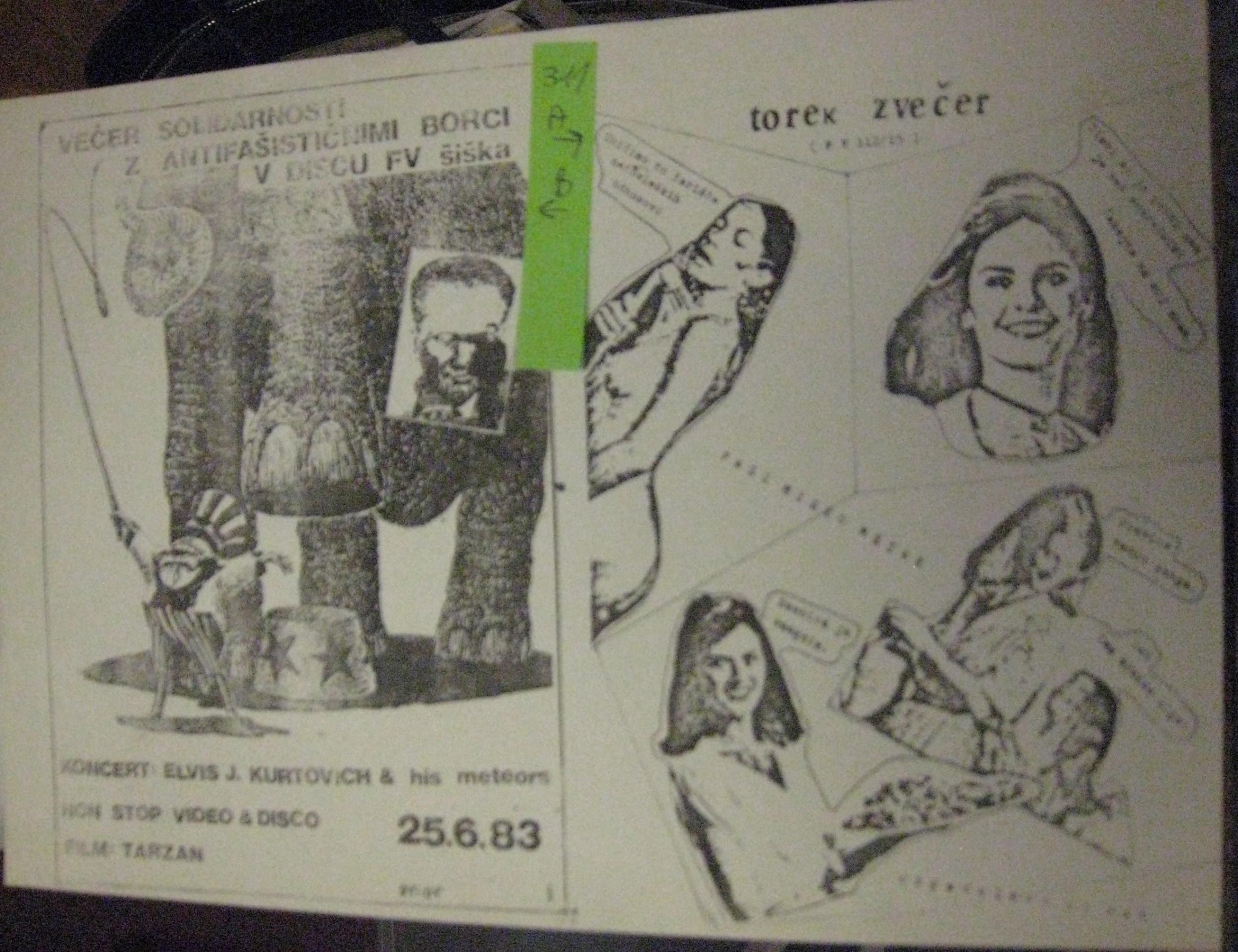 The FV 112/15 Group Collection is a blend of artistic materials representing the time, social movements, and lifestyle of young people in Slovenia in the 1980s. It documents a central part of Ljubljana's subculture and the alternative youth movement through the work of an amateur theatre group called the FV 112/15 Theatre and through the activities of three alternative clubs. The group cultivated an ironic attitude toward socialism and deconstructed bourgeois stereotypes.


Езици
Английски
Словенски
Хърватски
Име на колекцията
FV 112/15 Group Collection
Произход, история и културни дейности
The archives of the FV 112/15 group do not exist as an original collection; rather they are only one component of the International Centre of Graphic Arts' (ICGA) single Collection. This is why an ad hoc collection, called the FV 112/15 Group Collection, had to be created, containing the relevant materials for the culture of dissent in socialism. The name of this ad hoc collection – the FV 112/15 Group Collection – is an abbreviation for France Verbinc, Slovar tujk (A Dictionary of Foreign Words), page 112, headword 15: "C'est la guerre."

Neven Korda, the collector and founder of the archives of the FV 112/15 (theatre) group collected/stored all of the materials related to this group's activities both spontaneously and intentionally, that is, to serve the needs of the FV video. FV 112/15 was first active as the FV 112/15 Theatre (1980–1983). In 1981, its members began to run events in three clubs: Disco Študent/Disco FV (1981–1983), Šiška Youth Centre (1983–1984), Kersnikova 4 (K4) (1984–). Finally, in 1983 the band Borghesia was established. Already in 1982 the FV Video – the FV 112/15 Theatre's video work – was an extension of the group's photo sessions and their fascination with lighting, costuming and posing in front of the camera. In 1985, the FV založba (FV Publishing Company) was established as an independent label for alternative music (it functioned until 1994).

The group FV and certain other groups are the primary creators of the collection's content. The FV group's activities, as already mentioned, ranged from theatre to clubs, from music production to video production and publishing activities. The group performed in urban clubs and thus transcended the limits of a standard theatre regarding its topography, concerns, aesthetics, and target audience. Their performances were rooted in the principles of collective authorship and collage. People who worked in clubs were also involved in FV activities. First, an idea would emerge, which was then implemented with the maximum input of all those who were interested in it.

Members of the FV group were also members and leaders of the band Borghesia. Aldo Ivančič and Dario Seraval initially formed the band Borghesia (1982–1989) and were joined by Zemira Alajbegović, Neven Korda and Goran Devide in 1983. Group FV/FV Video was responsible for videos and concert footage of a few other groups (Videosex, Miladojka Youneed, Niet, Čaopičke, Tožibabe, Azra, Demolition Group...). The FV 112/15 group was deeply involved with the development of Slovene video art and the beginnings of certain progressive trends in music, as expressed by groups such as Borghesia, Videosex and Laibach, among others.

Artistic and documentary photograph (photographs), posters, flyers, text, invitations, promotional materials and all manner of documents, from letters to meeting minutes, in other words, the FV 112/15 group's papers, are thus components of the International Centre of Graphic Arts' (ICGA) Collection. Curator Breda Škrjanec told the story of how this material arrived there. When, in 2005, the ICGA was staging the exhibition called the "First Line" – a show that presented printed art ephemera in Slovenia from the mid-1960s to the first years of the twenty-first century – Neven Korda, a former member of the FV group, was asked to loan his archival materials to the ICGA. Since these materials had grown exponentially over the time, the idea emerged to deposit them with the ICGA. And then Neven Korda decided to donate them in 2006.


Source:

Interview with Breda Škrjanec, ICGA. August 2016.

As for the rest of material from Neven Korda's archives, that is, art, music, and documentary video projects from the 1980s, they are partly available online at the digital video archive DIVA Station in Ljubljana (see especially Neven Korda), where they are physically and digitally stored. The archives of the FV založba – cassettes, LPs, singles and VHS cassettes – are partly (VHS cassettes) deposited, according to him, at Forum Ljubljana (an independent production company established in 1994 as an institute for artistic and cultural production. It is a successor to the first civilian association ŠKD Forum, established in former Yugoslavia at the end of the 1960s); partly at FV Records (LPs and audio cassettes)-also a successor of the first civilian association ŠKD Forum and partly are stored at Neven Korda's on-line personal web archives, called Zanka. Its subject headings Subculture/Alter practice and Borghesia, including some of Documentaries/Television, are directly connected to the FV 112/15 Group Collection deposited at the ICGA. The material is structured and equipped with colophons. There are also accessible video works and scans of different publications. Neven Korda maintains originals of all video works published on this site.

Next to this online personal web archive, Neven Korda also holds a personal video archive (VHS cassettes, Umatic-L cassettes, and Video 8 cassettes), which also exists in digital form. There are certain technical units in Korda's personal archive: an Atari 1040 computer and floppy disks. Pictures/graphics are stored on the floppy disks. Animation programs and programs for generating intermediate stages in the development of animations, created by Goran Devide, are also stored on floppy disks. Korda focuses special attention on this segment of his personal archive. As to the audio component of the archive, cassettes and LPs are stored at Radio-Television of Slovenia (RTV SLO). Technical devices have since been lost.

Physical and digital video archives constitute an important and precious part of the cultural heritage. In the 1980s, video was used as a powerful form of social and media expression, which increasingly became the primary media tool of the underground scene and television. As Neven Korda says, the FV 112/15 group's archives were collected to serve the needs of FV video. Archival materials were continuously used in production, e. g. in the form of slides or as a visual background for venues (clubs, stages). Video production was thus an integral part of the archives. In the 1980s, as a member of FV 112/15, Neven was responsible for the FV video program. He recorded photographs, posters, and visualisations on paper for various artistic and informative projects from different years and in various combinations.

The archival materials about the FV 112/15 group played an active role not only in the 1980s, at the time of the active FV video program, but also in the 1990s, when it was used to produce several documentary films. Between 1992 and 1993, Neven Korda and Zemira Alajbegović jointly prepared several documentary television programs, called Podoba (Image) 1-5, for the television station Kanal A. In 1997, they completed the documentary film Staro in novo (Old and New); in 1994, a retrospective exhibition about the FV conglomerate was organised in the ŠKUC Gallery, entitled "FV-10 Years Later".

The essence of these archives was and remains to preserve the originals (as with video tapes). The sole purpose of collecting materials about the FV group was functional, that is, for video production. There was no intention to create an archive. There was no selection criteria of any type. Since Neven recognised the materials as important sources of information, he archived them all.

Source: Interview with Neven Korda. January 2017.
Описание на съдържанието
The Collection contains artistic and documentary photography (photographs), posters, flyers, text, invitations, promotional materials and all sorts of documents from letters to meeting minutes. It contains approximately 400 different items. The FV 112/15 Group Collection covers the women's movement, youth movement, popular culture, avant-garde and underground arts, and theatre. It has all the earmarks of an art project. It grew out of an amateur theatre group and, through the activities of three clubs (FV Študent, FV Šiška, and K4) on the alternative scene, provided a space for the expression of sexual, social, cultural and artistic differences. Photographs, posters, and flyers as artistic ephemera are important from an artistic point of view. The documents are intriguing both from a historical and cultural perspective. Photographs document theatrical and artistic productions in the aforementioned three clubs and by the FV theatre, the band Borghesia, and video documentation. Posters reflect the so-called do it yourself culture with a particular narration, linked to clubs and music played there.

The FV 112/15 Theatre had its first appearance at Disco Študent in 1981, at the Rožna dolina student dormitories in Ljubljana, with Velika majska predstva (The Big May Show) and went on to present several more productions over the next two years: Nothing Should Surprise Us (Nič nas ne sme presenetiti), It Smelled Like Spring (Dišalo je po pomladi) and Who Turned Out the Lights? (Kdo je ugasnil luč?).

The most significant moment in the history of the FV group occurred in November 1981, when it took over the organisation of Tuesday nights at Disco Študent (later named Disco FV), in the Rožna dolina student dormitory complex. For the members of FV, "a disco was the extension of theatre by other means." Disco FV opened up a space of mutual recognition and a temporary and autonomous safe haven, in contrast to the public space, which was either closed or hostile. It also represented a form of economic organisation that was independent of any subsidies from various official bodies, and so could also be more politically and culturally independent.

Nevertheless, it was music that formed the fundamental point of identification and mobilisation at Disco FV. Musical events were also accompanied by other kinds of activities, such as theatre performances and exhibitions. For instance, a display of articles from the student newspaper Tribuna that the public prosecutor had banned from publication once appeared on the walls of Disco FV. Photographers took photographs and documented events at Disco FV. Graffiti were also important. Sometimes it took the form of slogans, while other graffiti came from fans who spray-painted the walls with the names of their favourite punk bands. The FV also exhibited the graffiti paintings of Dušan Mandić, later a member of the Irwin group and Neue Slowenische Kunst (NSK).

In the Šiška Club, music was the primary point of identification and mobilisation. The Šiška Club held hardcore punk, heavy metal, and dance DJ nights (rap, funk, independent pop, and electronic dance music). The programming also included performance art and videos. At times, the Šiška functioned as a gallery. It offered gays and lesbians a safe haven and a place to socialise openly. Between 24 and 29 April 1984, the first gay and lesbian Magnus Festival was held there (the Magnus Festival inaugurated the first openly organised gay and lesbian movement anywhere in socialist Eastern Europe). The Magnus included screenings of gay-themed films, discussions, exhibitions, and DJ nights.

Activities at K4 included genre-defined DJ nights (dance music, jazz, various forms of punk, post-punk, and pop), jam sessions, photography exhibitions, and screenings of both music-based and non-music-based films and videos. The club K4 maintained an important role in shaping the alternative scene's identity, social experiences, and politics. It continued to push back the boundaries of the permissible and thus pluralised the public space. The feminist group Lilit – to whom curator Breda Škrjanec belonged – organised the first women's night at K4 on 3 April 1985. Lilit then began holding regular women's nights each month. Lilit radicalised the Slovene feminist movement from a position of just advocating equal rights for women to fighting for lesbian rights and women's liberation.

Reliance on photocopying technology and a regular, cheap, and quick way to produce posters fostered an aesthetic based on the photomontage of found images. Photocopying provided a way to evade official control to which printed matter was subordinated. By implementing the do-it-yourself (DIY) idea, visual expressions provided a concept for a meta-commentary on various cultural, social, and media images. With the practice of spontaneous, crude, do-it-yourself graphic design and photomontages of ready-made typographies and pictures, the FV group resisted the industrial mode of promotion and distribution of popular culture and negative representations of the punk subculture.

Posters reveal the links between the artistic avant-garde and the youth culture of punk, which American cultural critic Greil Marcus has called "the secret history of the twentieth century." FV posters reinforced the principle of photomontage as an important method for parody, irony, and visual as well as a political struggle in mass culture. At times, some FV posters made a very brutal impression. The artists did not aestheticise the visual content. The use of photomontage made it possible to politically reinterpret the elements that were being combined. For example, the poster for the performance Who Turned Out the Lights? (1983), designed with the help of a reproduced photograph taken at a political trial and combined with the title of the performance, clearly suggested that socialism had found itself in the dark.

Source: Petja Grafenauer Krnc, Nikolai Jeffs, Neven Korda, FV : alternativa osemdesetih = alternative scene of the eighties. Ljubljana: Mednarodni grafični likovni center, 2008.
Съдържание
лична документация (плакати, листовки, печати и т.н.): 100-499
ръкописи (его-документи, дневници, бележки, писма, чернови и др.): 100-499
сива литература (архивни документи като брошури, бюлетини, листовки, доклади, разузнавателни досиета, записи, работни документи, протоколи от заседания): 100-499
Оператор(и)
Собственик/ци
Участник/ци в събирането
Теми
Основател
Създатели на съдържание
Личност(и), събрали колекцията
Важни събития в историята на колекцията
Публикации
Petja Grafenauer, Nikolai Jeffs, Neven A. Korda, and Rawley Grau. FV: alternativa osemdesetih = alternative scene of the eighties. ed. Breda Škrjanec. Ljubljana: Mednarodni grafični likovni center, 2008.
Списък библиография
1. Petja Grafenauer Krnc, Nikolai Jeffs, Neven Korda. FV : alternativa osemdesetih = alternative scene of the eighties. Ljubljana; 2008; Mednarodni grafični likovni center.
2. Nina Peče. FV. Alternativna kulturno-umetniška produkcija. Univerza v Ljubljani : Fakulteta za družbene vede, Ljubljana, 2003.
3. Tomica Šuljić. To je bila alternativa. Mladina 48, 28. 11. 2008. Accessed November 2016, http://www.mladina.si/45527/to-je-bila-alternativa/

4. Damjana Kolar. FV, Alternativa osemdesetih. Mladina 47, 20. 11. 2008. Accessed August 2016. http://www.mladina.si/45418/fv-alternativa-osemdesetih/

5. Petja Grafenauer Krnc. FV, alternativa osemdesetih. Accessed August 2016. http://www.napovednik.com/dogodek89518_fv_alternativa_osemdesetih_let

6. Neven Korda Andrič. Alternativna kulturna produkcija. Univerza v Ljubljani : Fakulteta za družbene vede, Ljubljana, 2008.
Škrjanec, Breda , interview by Rendla, Marta , August 25, 2016. COURAGE Registry Oral History Collection
Korda, Neven , interview by Rendla, Marta , January 17, 2017. COURAGE Registry Oral History Collection
2020-01-07 13:53:47